Interdisciplinary Program in Healthcare Innovation 2024
OBJECTIVE
The objective of the course is to prepare the next generation of healthcare professionals to be able to face new challenges of precision patient-centric practice. We provide them with a basic knowledge and a holistic vision of the complex processes that translate scientific advances into novel standards of care.
The course consists of interactive sessions led by experts from academia, public health organizations, private companies and patient representatives. Through lectures, quizzes, workshops and an online learning platform students can achieve competencies which address a variety of scientific, business, management and social issues.
Topics covered during the course include:
The main strategies and tools for the prevention and treatment of disease states;
The main types and principles of healthcare systems worldwide;
The basic principles of healthcare economics and management;
The multiple steps and key principles in the development of health technologies;
The basics of data and knowledge generation in healthcare;
The new innovation models and career opportunities in healthcare.
TARGET AUDIENCE
Our innovative educational program is offered to
Master and PhD students
Post-doctoral fellows
Medical specialists in training
Professionals
PROGRAM 2024 & RECOGNITION
Participants are given the opportunity to choose between two tracks:
ECTS program: granted if the participant passes the online exam, participates at the Meet-the-Experts day, the I3h Annual Lecture and attend 80% of the program

Certificate in Healthcare Innovation: ECTS program requirements + attend 2 interactive workshops and prepare a short case study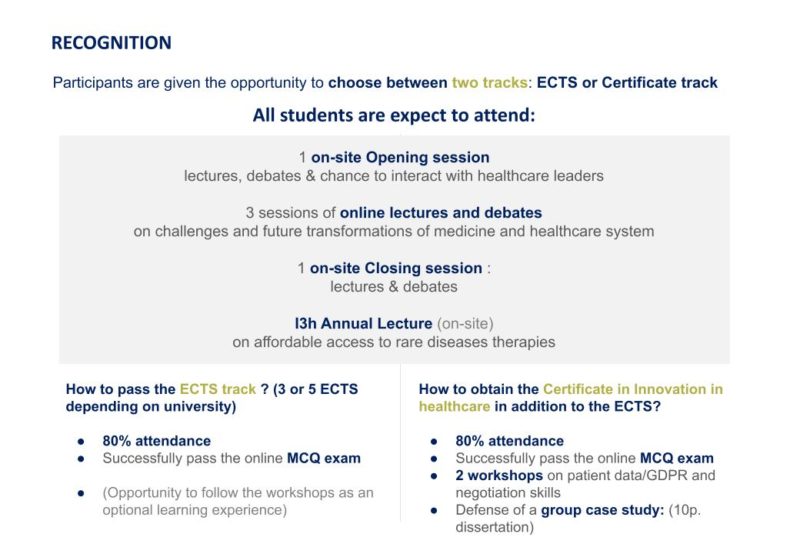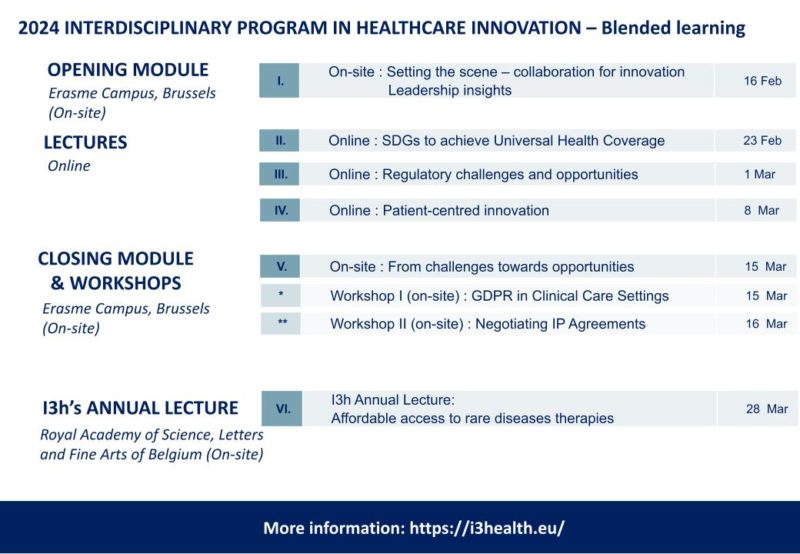 TUITION FEES
Master students, PhD students, Post-Docs, Medical Doctors (MDs) in training affiliated with Belgian universities:
Free of charge (supported by the Baillet Latour fund)
Participants affiliated with universities outside of Belgium:
500€ for the entire program
Professionals:
€250 per module
or
€1000 for the entire program
VENUE
Online through zoom webinars and recordings: 3 Sessions of lectures and debates and case study defence
Onsite at the ULB Campus Erasme, Brussels: Opening & closing modules, as well as the workshops
I3h Annual event on "Affordable access to rare diseases therapies" will take place on March 28, 2024 at the Palace of the Academies.
I3h
For more information, please send an e-mail to the following address: info@i3health.eu
*The course was formerly known as the Interdisciplinary Program in Translational Medicine. Since the 2019 edition the name has been changed to reflect the broad competencies that students develop in addressing the scientific, business and social issues of modern healthcare.