CONTEXT
The implementation of a new vision for high-quality, affordable and accessible healthcare will depend on the capacity of academic institutions to educate and train a new generation of physicians, scientists and managers working together in an interdisciplinary setting. The skills to be developed must prepare to meet scientific, clinical and regulatory challenges but also to address organizational, business and management issues.
Over the recent past, several initiatives have been launched to align healthcare stakeholders on congruent patient-focused objectives, namely to get the needed new therapies to patients faster and under sustainable conditions. Indeed, more than 400 public-private partnerships for drug development were launched worldwide, with the Innovative Medicines Initiative as flagship. Although these collaborative endeavours based on the open innovation concept are in general perceived as fruitful, there is no measurable evidence of their added value. Furthermore, their implementation remains highly empirical. Research on how to organize and assess interdisciplinary multi-stakeholder approaches in healthcare is therefore clearly needed.
The Institute for Interdisciplinary Innovation in Healthcare aims to develop scientific knowledge, education programs and awareness raising activities to promote new models of innovation in healthcare.
ORGANIZATION
The I3h Institute will be located at the Université libre de Bruxelles, Belgium. Multidisciplinary by nature, the Institute I3H will be organized as a Virtual Institute defined as a collaborative research and education environment without walls, linking complementary expertise to elaborate new models of interdisciplinary innovation in healthcare and raise awareness among stakeholders. The Institute will gather and be open to a range of scientists and experts operating in different disciplines within and outside the biomedical, bioengineering and bioinformatics space, including economics and finances, management and leadership, law (intellectual property), public health, regulation, and sociology.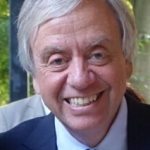 Professor Michel Goldman
Founder of The Institute for Interdisciplinary Innovation in healthcare
Michel Goldman, MD, PhD, was the first Executive Director of the Innovative Medicines Initiative Joint Undertaking (IMI), from 2009 to 2014. With a budget of 2 billions € provided jointly by the European Federation of Pharmaceutical Industries and Associations and the European Commission, he was responsible for 59 public-private consortia in areas of major importance, including antimicrobial resistance, Alzheimer's dementia, autism, diabetes, immuno-inflammatory disorders, chronic pulmonary diseases and drug safety.
From 1990 to 2008, he was the Head of the Department of Immunology-Hematology-Transfusion at the Erasme Hospital of the Université Libre de Bruxelles (ULB), and from 2009 to 2014 he serves as the first Director of the Institute for Medical Immunology at ULB.
Currently, Michel Goldman is Professor of Immunology and Pharmacotherapy at ULB. Furthermore, he is a member of the Board of Directors of CQDM (Canadian consortium for precompetitive research), of the Board of the Tuberculosis Vaccine Initiative and of the Strategic and Scientific Advisory Board of GenomeQuebec. He is also the Chairman of the Scientific Committee of Effimune S.A., a French biotechnology company.
Michel Goldman's scientific achievements resulted in more than 400 articles in peer-reviewed journals and he was recognized as ISI Highly Cited Scientist in 2006 by the Thomson Institute for Scientific Information. In 2000 he received the Joseph Maisin Prize, a major award for clinical sciences delivered by the Fonds National de la Recherche Scientifique (Belgium) and he held in 2001 the Spinoza chair at the University of Amsterdam, the Netherlands. In 2007, Michel Goldman was awarded the degree of Doctor Honoris Causa of the Université Lille II, France.
SCIENTIFIC BOARD
ULB Members
BOARD OF TRUSTEES
Chairman
Mathias Dewatripont

Director, National Bank of Belgium